Do Not Stand at My Grave and Weep for SATB Chorus and Piano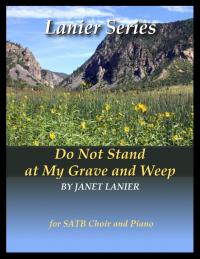 For SATB Chorus and Piano
Text by Mary Frye, Music by Janet Lanier
Performance time - 4:45
Price: $3.00 per vocal/piano copy
Originally commissioned for TTBB chorus by the Amarillo High School Bel Canto Chorale Men directed by Susan Hinrichs for the 2008 Honor Choir Performance at the Texas Music Educator's Association Convention (TMEA) in San Antonio, TX. It was composed in honor of those who gave their lives for our freedom and in memory of S/Sgt Andrew Caine Perkins, AHS Class of 1998, KIA March 5, 2007, Samarra, Iraq. A video of the Amarillo High School Bel Canto Chorale Men singing the original TTBB version can be found here. At the request of the Augusta Choral Society, it was revoiced to SATB in 2009.
The text is freely based on a poem by Mary Frye, a Baltimore homemaker, who wrote this, her first poem, in 1932 to console her friend Margaret who was grieving the death of her mother. Margaret cried that she was not able to visit her mother's grave to say goodbye because she died in Germany during Hitler's powerful reign. The poem came to Mary while she was checking off a list of groceries so she gave it to Margaret written on a torn grocery sack.
DO NOT STAND AT MY GRAVE AND WEEP 
Do not stand at my grave and weep
I am not there.  I do not sleep.
I am a thousand winds that blow.
I am the diamond glints of snow.
I am the gentle autumn rain.
When you awaken in the morning's hush
I am the swift uplifting rush
Of quiet birds in circled flight.
I am the soft stars that shine at night.
Do not stand at my grave and cry;
I am not there.  I did not die.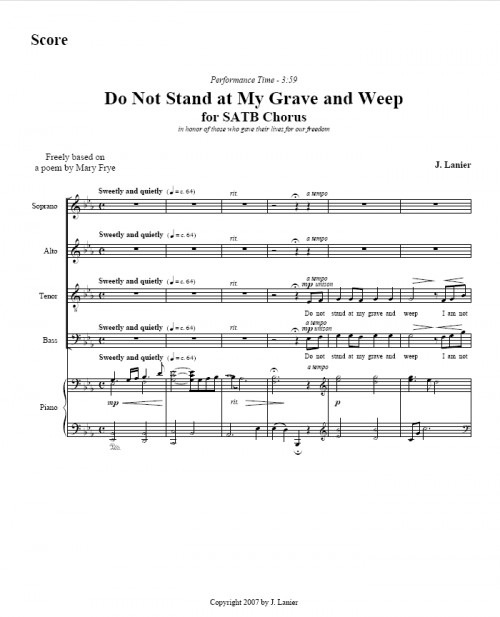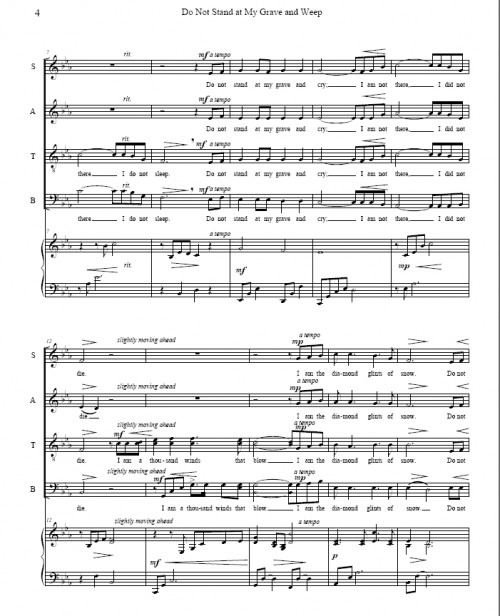 Please note that I use the honor system here. Because this is a digital download, you are permitted to print off only the number of copies you have purchased. You may use the invoice for your records to indicate you have purchased the music and copied them with permission.
If you wish to purchase numerous copies and have them printed for you, please contact me through my Contact Page so that I can tell you the cost of printing, shipping and handling.
categories: