Flight of the Mountain Bluebird for 3 Harps (FREE!)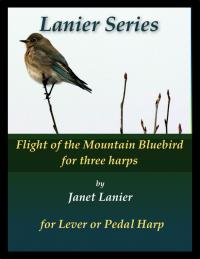 for 3 Harps

by Janet Lanier

Key of C - no lever or pedal changes required
This trio was written with harp circles in mind. What a joy it is to get several harp players together but how difficult it is to find music that allows a variety of skill levels to participate. I wrote this piece in hopes that it will have something that can be played by everyone. Each part has a different skill level. These are my suggestions for the skill levels:
Harp Score with all three parts FULL SCORE
Harp 1 - intemediate HARP 1
Harp 2 - beginner HARP 2
Harp 3 - advanced HARP 3
I originally offered this trio on the Virtual Harp Circle and found out from some of the members that their circles are enjoying the trio because it has something for all skill levels. One harpist came up with the idea to play just one of the parts on its own for her harp gigs! Whether you play this as a trio or just one part at a time, I hope you enjoy it!



The South Carolina Three Rivers Harp Ring recently created a video of their group playing this piece. Watch the video here: SC Three Rivers Harp Ring Performing Flight of the Mountain Bluebird

Don't have a third player? Here's a duet version of Flight of the Mountain Bluebird.
categories: