Article: Alphorn Serenade Inspires New Arrangement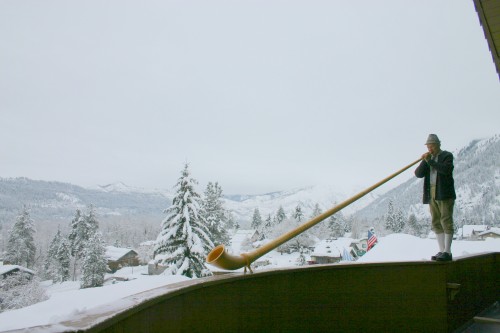 This is Bob Johnson, one of the owners of the Enzian Inn where my husband and I stayed in Leavenworth, WA in January. Leavenworth is a lovely village in the North Cascade Mountains. It's a great family friendly place that mimics a Bavarian village.

Mr. Johnson has many talents besides being the owner and one of the original builders of the Enzian Inn. Each morning at 8:15 am and 9:15 am, dressed in his lederhosen and hat, he carries his alphorn (which must be at least 10 ft. long) out to the fourth floor balcony and into the crisp morning mountain air. He slides out a small step from under one of the outdoor benches (no doubt something he installed himself). He then places the two support pegs of the alphorn bell on top of the balcony rail and climbs to the ledge. He takes a few moments to position himself and his alphorn on the skinny railing and to gather his musical thoughts. He positions the mouthpiece against his lips, takes a very deep breath and soon we hear glorious and rich sounding horn calls. When I asked Mr. Johnson the titles of his beautiful songs, he smiles sweetly and says, "They're just mountain songs." After playing a few of his mountain songs outdoors for anyone wanting to snap a photo of him with the breathtaking view of the surrounding snow covered mountains and for the towns people below, Mr. Johnson jumps down from his perch and brings his alphorn indoors to serenade the breakfast crowd. He seems to really enjoy delighting those who have never heard such an instrument (which is probably everyone there). He seems to have a great sense of humor too because he'll start following one of the children around the room with his alphorn as he's playing.
This was a real treat for me for I really felt like I was in the Alps. I certainly hope to return someday. Perhaps I'll get to hear Mr. Johnson's son Rob next time for Rob is also an alphorn player and built the Enzian Inn with his father. As you can see from my latest addition to my website, I was very inspired by this experience. While searching for Bavarian folk songs and mountain songs, I ran across the Bavarian Air tune and found it to be a great piece for harp.