Video: Tutorials on How to Use forScore on the iPad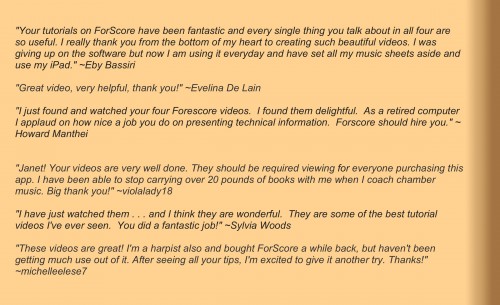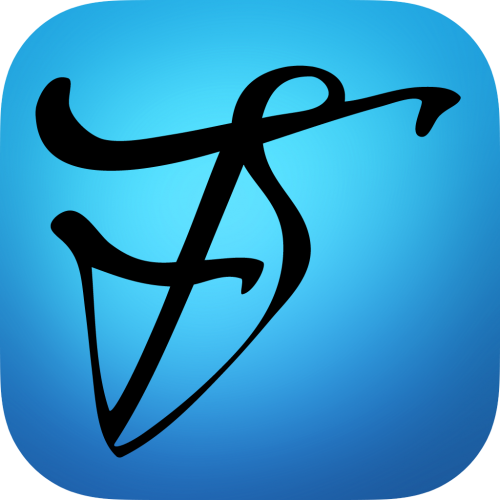 The app for iPad called forScore has been great to use on my harp jobs. I can load PDFs of my music or take a picture of a music page and read it in forScore. I can also make markings on the page with different colored pens and highlighters. I've created many setlists or program lists in forScore too. There are many great features in this app. I've enjoyed it so much that I decided to make a series of video tutorials to help others see the ease of this app.
Please be aware that these videos were created with forScore Version 4.0 and 5.0. The current version is now up to Version 10. ForScore has added many changes and many new features since 4.0 but you may find a few good tips in these videos.

If you are looking for something specific, please look through the descriptions after each video or do a search on the page. A time marker will tell you how to get to the topic in the video.

WHAT'S NEW IN FORSCORE 5.0?

<>

What's New in forScore 5.0?
This video shows you most of the new features and improvements with forScore 5.0. Before updating to forScore 5.0, be sure to backup your scores and setlists to your computer. If you need help with backing up files, watch my 4 min tutorial below "How to Backup Scores and Setlists from forScore".
What's New in forScore 5.0?
Enter multiple data information in composer, keyword, and genre fields 1:12
Setlists (for creating programs or concerts from the library) 3:35
Putting your seltlist in manual order 3:46
How to remove a song from a setlist 6:14
+Current and +Placeholders in Setlists 6:22
See 2 score pages at once 7:42
Improved half-page views 8:48
Performance mode 9:54
Tabs feature 10:15
Merge multiple PDFs into one file 11:25
Improved automatic cropping 12:15
Search feature (within a setlist) 13:18
Email a setlist 14:09
Improved annotation features 15:49
Improved piano feature 16:28
Improved Darkroom 16:42
Improved customer support, suggestion box within the app 16:50


HOW TO BACKUP SCORES AND SETLISTS FROM FORSCORE


How to Backup Scores and Setlists from forScore
This video shows you how to backup your scores and setlists from forScore on the iPad to your computer and how to download them back to forScore. If you are familiar with forScore or have watched my forScore Tutorials and want to update to the 5.0 version of forScore, you should back up your files first.

Backup scores through iTunes 0:24
Backup scores or setlists through Dropbox 1:04
Backup setlists only 1:58
Downloading your backup files back to the iPad through Dropbox 2:29

TUTORIAL PART 1 (using version 4.0)
Tutorial Part 1
Will the iPad work for my music reading?
Distance Factor 0:32
Harp Desk and number of strings 0:55
Backlighting on iPad 1:13
Brief overview of Settings in forScore 1:32
Tap areas for turning pages and bringing up the Navigation Bar 1:50
Short help preview of each setting 2:18
Gestures 2:54
Page Transitions 3:23
How to get a PDF from the computer to forScore on the iPad 3:58
Email an attachment 4:07
Dropbox 5:17


TUTORIAL PART 2 (using version 4.0)


Tutorial Part 2
How to manage the library in forScore
Composer list 0:41
Title list and Metadata boxes 1:10, 3:20, and 3:42
Batch Edits 2:44
Setlists 4:21
Manual ordering of setlists 5:45


TUTORIAL PART 3 (using version 4.0)


Tutorial Part 3
Page turns 0:13
Annotations 2:05
Stylus 2:52
Stamps 3:19
Pens 4:42
Erase 6:44
Highlighters 7:06
Overlay Feature 8:18
White markers 9:05
Organizing your pens 9:52
Type 10:32
Clear the screen markings 12:48
Snapshot 13:16

TUTORIAL PART 4 (using version 4.0)


Tutorial Part 4
Darkroom (taking a picture of a score) 0:17
Rearrange page order 2:47
Cropping 3:39
Metronome 4:52
Automatic page turns 8:48
Note tablet 9:30
Pitch 10:57
Built-in Piano 13:14
Built-in Manual 14:15


TUTORIAL PART 5 (using version 4.0)
Tutorial 5
How to create and import stamps. Includes websites where you can get free collections of music symbols and IPAs in PNG format to import into forScore. Be sure to get some of the extra stamps I have created mostly with harp symbols but a few for non-harpists too on this page: Free Additional Stamps for forScore