Snowy Breasted Pearl for Harp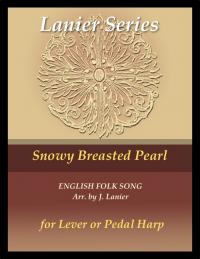 For Lever or Pedal Harp

English Folk Song
Arr. by J. Lanier
This is not the more commonly known Irish folk song that starts with the lyric "There's a colleen fair as May". This is an English folk song I recently came across. It's also known as a New England country dance tune or march. Other song titles for this tune are the Irish song "Boys of Wexford" and the Christian Science hymn "I love Thy Way of Freedom, Lord".
The arrangement is done in a processional type style with the folk tune alternating with Pachelbel Canon type passages and is very versatile in timing. An optional Da Capo and ending Coda is written allowing the player to repeat as often as needed with the option to skip to the ending Coda at any of the double bars throughout the song.
There are no lever/pedal changes in this piece and it is in the key of G Major.
Individual copy - $2.00
(click on "add to cart" below)

categories: