The Three Trees for Narrator and Harp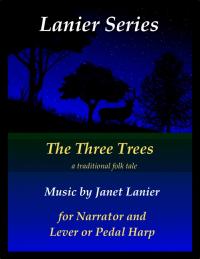 For Narrator and Harp (lever or pedal)
Story is a traditional folk tale about three trees, each having a dream to become important in their own way but soon they find out God has a special plan for them.
Music by Janet Lanier
Harp score with narration - $10.50
(click on "add to cart" below)
The harp part is ten pages long and has no lever changes. It is in the key of G Major or E Minor and uses right hand harmonics on middle B, A, and F#. Cues are given throughout the harp part with optional repeated measures to maintain coordination with the narrator.


Watch the video of The Three Trees