Greensleeves Variations for Harp Soloist and MP3 of Small Orchestra
For Solo Harp and Small Orchestra
English Traditional
Arranged and orchestrated by J. Lanier
No lever or pedal changes required
Individual harp part - $3.50 (Click on the add to cart below)
MP3 Accompaniment - $2.50 (Sold separately - click here to purchase)
A 22 string harp version is available here.
If you would like to perform this with an orchestra, you can find the score and parts here.
Would you like to practice with an orchestra accompanying you in your own home? This is your opportunity! Greensleeves Variations for Harp and Orchestra is being offered as a harp solo with an MP3 accompaniment. The original accompaniment (strings, piccolo, and tambourine) is now available as an MP3. Practice your part with the MP3 as many times as you want. The MP3 helps the harpist to stay in a steady tempo and is much more fun than practicing with a metronome!

Click here: Variations on Greensleeves Harp and Small Orchestra to listen to a Finale sound file of the full arrangement.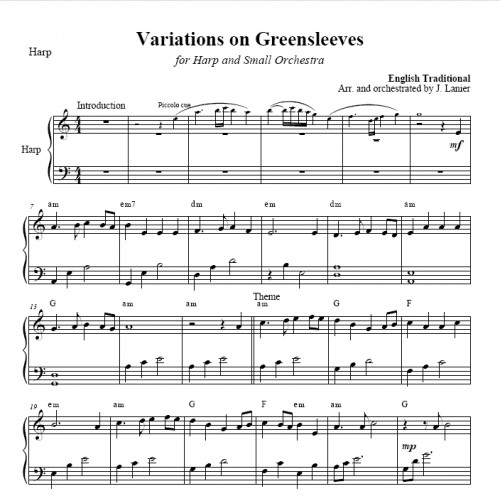 categories: