Harp Book: Joyful Harp Series Book II: Loved Hymn Arrangements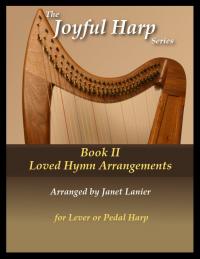 The Joyful Harp Series
Solos for the Adult Beginner
Book II: Loved Hymn Arrangements
For Lever or Pedal Harp
Arranged by Janet Lanier
Each song is one page long and positioned on the right side of the booklet to help the beginner.
No lever changes during any of the songs. Lyrics included.
Price $8.50
(Click on "add to cart" below)
Individual hymns may be purchased separately. To see a sample preview of each hymn, click on the titles.
Arrangements: Come Thou Fount, Blessed Assurance, O Worship the King, Fairest Lord Jesus (or Beautiful Savior), Joyful Joyful, Be Thou My Vision
Other books in the Joyful Harp Series:
Joyful Harp Series Book I: Original Compositions and Arrangements
Joyful Harp Series Book III: Hymns We All Know
Joyful Harp Series Book IV: Songs of the Garden
categories: