Duet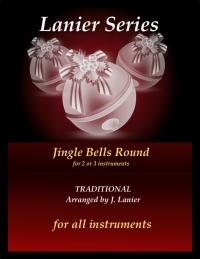 To help your ensemble bring in the holiday cheer, I'm offering a free download of a 2 or 3 part round based on the opening bars of Jingle Bells. This can be played by 2 or 3 players (or groups). There are parts for treble, bass, or alto clef instruments or for transposing instruments in Bb, Eb, and F. There are no lever or pedal changes required in the harp parts. I hope you and your ensemble enjoy it!
categories:
Two-part invention based on the hymn
For two same-pitched instruments
Performance Time: 1:17
Score - $8.50
(click on "add to cart" below)
Please inquire through my "Contacts Page" for alternate instrumentation for this arrangement.

Click here: [attachment:1] to listen to a Finale sound file of this duet
categories: