A Little Bird Am I for Flute and Harp (or Piano) (Alternate parts available)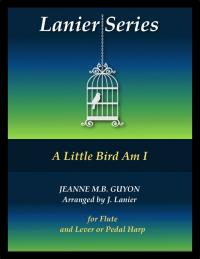 For Flute and Harp
JEANNE M.B. GUYON
Arr. J. Lanier
A delightful duet in the Mozart style for flute and harp (or piano) using the hymn tune "A Little Bird Am I".
Approximate performance time - 3 1/2 min
Key of C
The harp part has one easy lever change on F# and uses dampening in two places. The first two sample pages below show the skill level needed. The flute (or woodwind part) is more advanced than the harp part.
Score and separate parts for flute and harp - $5.50
(click on "add to cart" below)
The harp part can be played on the piano.
Alternate woodwind parts available.
Click here for the alternate oboe part $1.50
Click here for the alternate clarinet part $1.50
Click here for the alternate English horn part $1.50